Moore 24
UNDOUBTEDLY A CLASSIC
Order A Brand New Moore 24 Today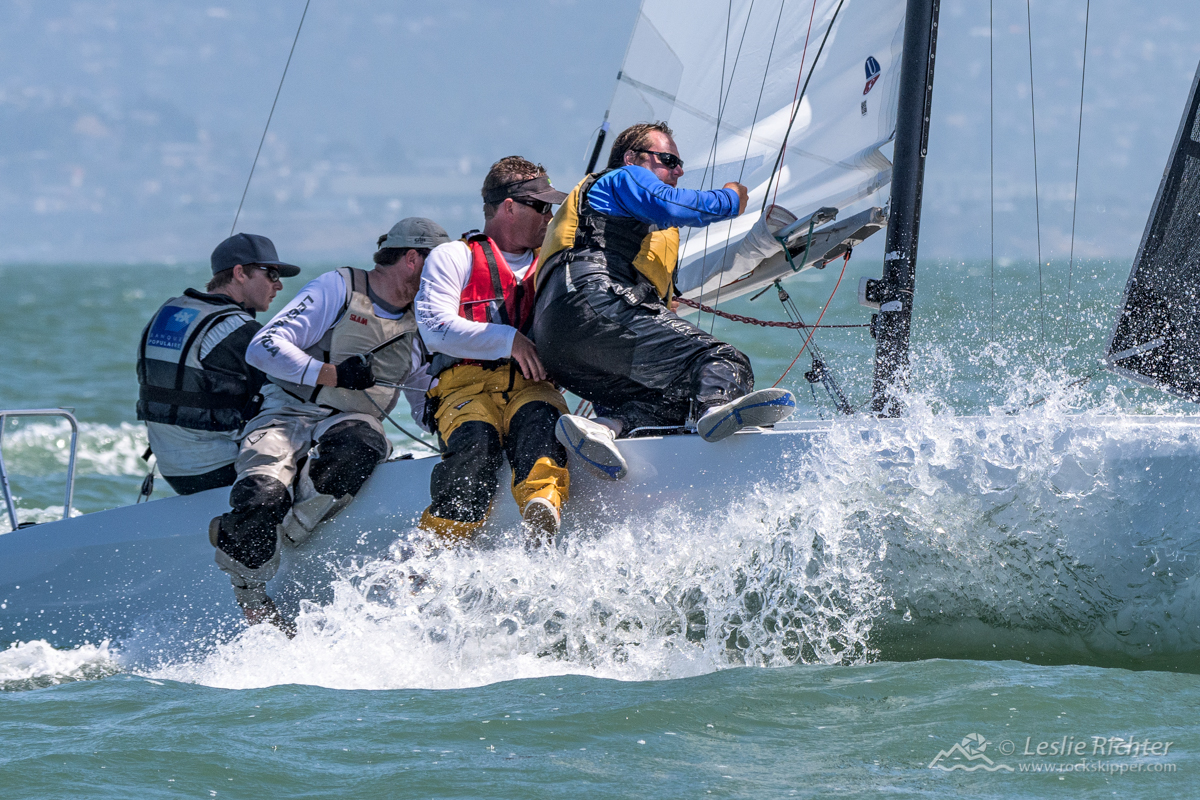 America's first production line ULDB was a Moore 24. Like any classic, she has stood the test of time. After ten years she still dominates every kind of winners list. She can surf at excess of 20 knots or slide nimbly across the water pushed by a faint breeze. She handles superbly in all conditions and is continually cited by independent experts for excellence in design, performance and craftsmanship. Undoubtedly, the Moore 24 is a classic.
The Moore 24 emanated from a superior source. She is the culmination of Ron Moore's twenty years of experience in light boat construction. Ron was manufacturing International 5-0-5s before light keel boats were in the water. It's no wonder he was the best prepared to make the transition to light keel boats. His flawless craftsmanship and time tested expertise insures the refined techniques necessary to build a sound light boat. Others may talk long on theory, but excellent craftsmanship and superior design is what insures a seaworthy boat. In 1975, in a now infamous Santa Cruz to Santa Barbara Race, marred by tragedy and serious equipment failures, a Moore 24 finished safe and sound hours before any competitors.
The Moore 24 is a study in polished functional simplicity. She appeals to the racer or the cruiser. The hull 's v-shape provides a comfortable , high performance ride, the rig is expertly set up and made from the best products on the market.In fact some of the hardware is custom made because the best isn't good enough. Typical of a Moore 24 are the unique race/cruise berths designed to accommodate the racer as well as the cruiser. An experienced sailor will marvel at the outstanding performance, while the inexperience sailor will be struck with the ease of mastering a Moore 24. Ron Moore invites you to experience excellence. Try a Moore 24 and see for yourself.
Specifications
L.O.A. 23'9"
L.W.L. 21'9"
BEAM 7'2"
DRAFT 4'1"
DISPL. 2050 lbs
BALLAST 1025 lbs
Sail area:Main 119sq. ft., 100% Fore Triangle, 128 sq. ft.
RATINGS
I.O.R. MK IIIA 21.9 to 23.0
M.O.R.C. 22.5 TO 23.6
P.H.R.F. 150 TO 162
STANDARD FEATURES ON A MOORE 24:
A Moore 24 sleeps four. The interior of select hardwoods serve to strengthen the hull and deck structure. At Moore Sailboats we believe the shape and finish of the keel and rudder are paramount. 5 full days of preparation go into surfacing the underwater foils.
Hull
One piece, hand lay up, fiberglass lamination with the color molded in.

Vacuum bagged balsa core reinforcement.

Laminated fiberglass and foam spade rudder with stainless steel shaft.

Ballast is cast lead of approximately 1025 pounds.

Nine 1/2" diameter stainless steel keel bolts

two 7" quarter berths and two storage bags.

Interior woodwork is of Bruynzeel Regina Mahogany, Ash, and Honduras Mahogany, finished with four coats of satin varnish.

All exterior trim is teak with the exception of the tiller, which is alternating stripes of Mahogany and Ash with five coats of gloss varnish.

Interior is finished with ivory color low sheen polyester paint.
Deck
Hand lay up fiberglass lamination using 1/2" balsa core, vacuum bagged for high strength and light wieght.

Non-skid and color molded in.

Sliding companionway hatch.

Self-bailing cockpit with two 2"i.d. drain tubes.

Molded traveller thwart.

Foredeck hatch.
Deck Hardware
Two sheet winches.

Two halyard winches.

Three foot ball bearing traveller with controls.

Two six foot inboard genoa tracks with cars.

All ball and roller bearing blocks.

Outboard tracks.

Toerail forward.

Three foot telescoping tiller extension.

Harken ratchet block on main sheet.
Rig
15/16 Fractional Rig w/4 foot taper.

Hinged mast step for easy stepping.

All halyards and topping lift are internal.

Custom double bridle, (clear anodized) spinnaker pole.

Two internal jiffy reefs in Boom.

Mast and Boom are all hard, black, and anodized.

24:1 backstay adjuster.

Six feet of hard, black anodized spinnaker pole track and car.

6:1 Harken boom vang.

(Black anodized) air foil spreaders.

Windex windvane.

Tri-colored masthead light.
GENERAL
Black anodized outboard motor bracket.

Two winch handles.

85 amp hour, 12 volt wet cell battery and interior gooseneck light.

Internal lifting harness.

Guzzler 400 bilge pung.

Gelcoat touch up kit.

Complete rope package, including main sheet, jib sheets, spinnaker sheets, topping lift, foreguy, two dock lines and wire to rope spliced main and jib halyards.
OPTIONAL EQUIPMENT
18" Bow Pulpit, Stern Pulpits and Single Lifelines.

24" Bow Pulpit, Stern Pulpits and Double Lifelines.

Barient 18-A Sheet Winches (two)

Compass.

Dual Compasses

Signet MK267 Digital Knotmeter w/log.

Internally Molded Person-Overboard Pole Tube.

Custom Trailer with Surge Brakes

Custom color combinations

Headfoil II System.

V-berth w/cushion.*

Quarterberth Cushions.*

Portable Head.

Stereo
*Standard on Moore 24 SC